1.2% Support
Dear club members and their parents,
Thank you for your support of our club! This year, we once again invite club employees, working club members, students' parents and social partners to support the "Budora" sports club by allocating 1.2 percent. personal income tax paid to the state. You can do that by transferring up to 1.2% of your income tax until 05/01/2023. By supporting the BUDORA sports club, you will not incur any additional costs, but you will receive a gift for it. Therefore, invite your relatives and friends to contribute as well.
You to us – support, we to you – gifts. Without spending a single cent, you can support the Budora sports club and win great prizes or wear the club's branded sweater.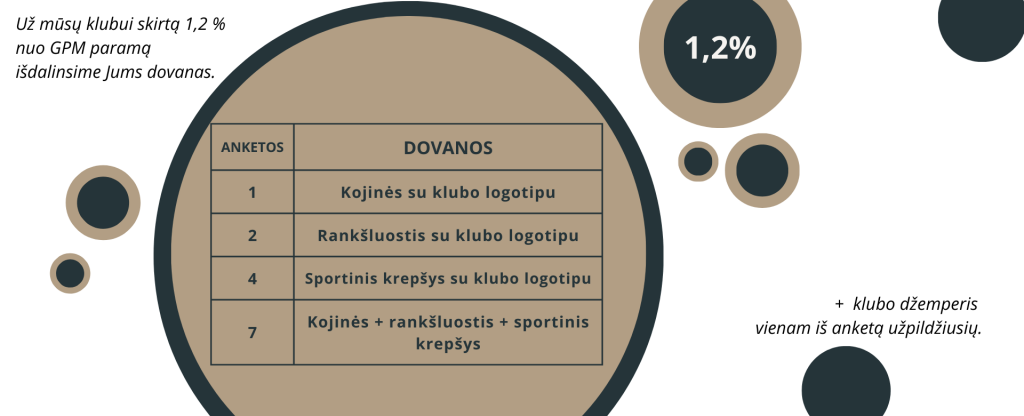 By donating 1.2% to us this year, you will directly contribute to our club's mission to promote healthy lifestyles and employment in society.
Allocate 1.2% to Budora sports club using online banking by filling out form FR0512 online: here.
Data required to fill out the form:
Enter your personal information in fields 1-4.
5 - Enter the year, for example "2022".
6s - mark with a cross.
E1 - Enter the number 2.
In column E2, enter the identification code of the "Budora" sports club: 300602141.
You can leave the E3 section empty or write VšĮ "Budora".
Enter 1,2 in column E4
In column E5, select the year up to which you want to allocate support. For example, until 2026. (In this way, the support will be automatically transferred to us until 2026, and you will not have to fill in this form every year)
Sign and write your name and surname at the bottom
Submit to the Tax Inspectorate
To check that you have filled in all the fields, download our example of a completed form: Example of form FR0512.
Providing support is essential fill out the prize claim form – only in this way will the prizes belonging to the sponsor reach him. We will give a club sweater to one of those who fill out the form. We draw your attention to the fact that when filling out the prize collection form, you are asked to submit a PDF or JPG file of the submitted questionnaire, so do not forget to save the completed and submitted form(s). We will distribute the prizes on June 1-15.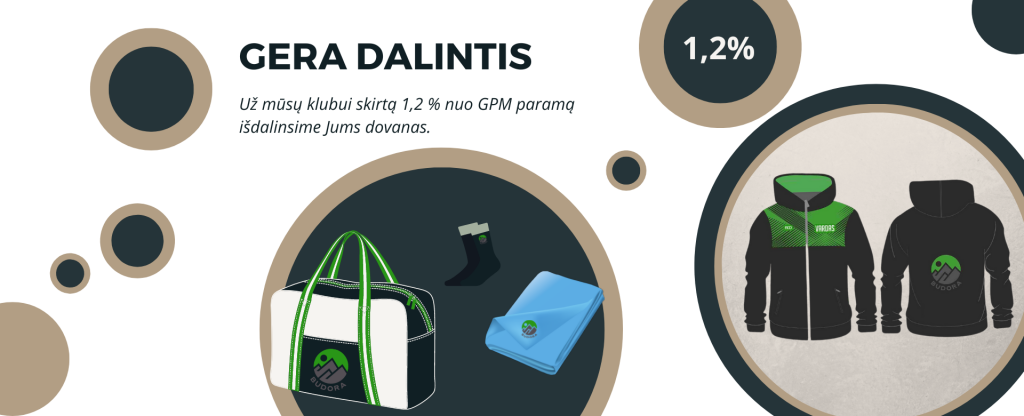 Prize claim form

All funds collected will be used to promote active leisure and physical activity for your children: organizing competitions and sports events, as well as enrolling children from poor families in karate training.
For the support received in 2021, we encouraged those children whose parents' or guardians' financial capabilities do not allow them to pay for children's training, competitions, exams and other events to play sports. We also contributed to the development of disabled sports.
For 2020 we used the received support for children from large and sensitive societies. for the reduction or full compensation of the membership fee of environmental families, for the organization of club competitions.
For 2019 received 1.2% support we bought boxing gloves.
For 2018 with the received 2% support, we purchased: vests, helmets, makivars, paws, jumpers, balls and other equipment needed for training.
For 2017 with the received 2% support, we purchased: vests, boxing gloves and makivars.